Fridge And Refrigerator Repair Specialists In Dubai
A Fridge repair Dubai is something that most Dubai homeowners take for granted. You should avail of fridge repair service in Dubai with the expertise of only the renowned professional Fridge repair company Dubai. If you are seriously looking for a Fridge repair near me? You have landed in the correct place. Contact Us by WhatsApp or Shop No 050 487 2548 or Phone No 055 374 1707.
Sama Technical Services Home Appliances repair Company Dubai has well-certified technicians for refrigerator repair service. In other words, they are trained and certified to carry out fridge repair in Dubai. Our fridge engineer uses the latest tools and equipment to repair the device efficiently, and you can be assured that repairing the fridge will work effectively.
They have been long working on refrigerators and many fridge repair services they have done successfully. Our appliance repair Dubai professionals specialize in all sorts of home appliance repairs, from small kitchen appliance repairs to boiler and air conditioning repairs.
Our fridge mechanics are experts in their field, working with different machines and appliances to give the best possible service. This includes refrigerators, but we also service other kinds of appliances and machines as well like dryer repair, washing machine repair, dishwasher repair and so on.
Sama Technical Services home appliances repair company in Dubai can be fixed your Fridge repairs in Dubai by appliance repair technician at affordable prices without any problem at all. If you undertake a Sama Technical Services professional company for refrigerator maintenance in Dubai. In that case, you can be assured that the appliance will not only be fixed but will almost certainly come back to life at a very minimum cost.
Call our certified refrigerator technician Dubai to get doorstep service of fridge repair in Dubai. Our skilled technician specialized in repairing all kinds of Fridge can handle any type of refrigeration unit that you have such as Single Door, Double Door, Side by Side, Door or Combo Freezer, Side by Side Freezer, Top-Freezer Refrigerator, Bottom-Freezer Refrigerator, French Door Refrigerator, Counter-Depth Refrigerator, Mini Fridge.
We at Sama Technical Services provide a large number of services to our customers. The facilities include repair, replacement, or maintenance. Apart from that, other facilities help to maintain the appliance and extend its life. These include cleaning the appliance's interior, cleaning the seals, changing the air filter, de-clogging the filters and repairing any device's malfunctioning.
To get refrigerator repair in Dubai on the same day with a service warranty at the fair service charges, Book our technician today at +0552597257.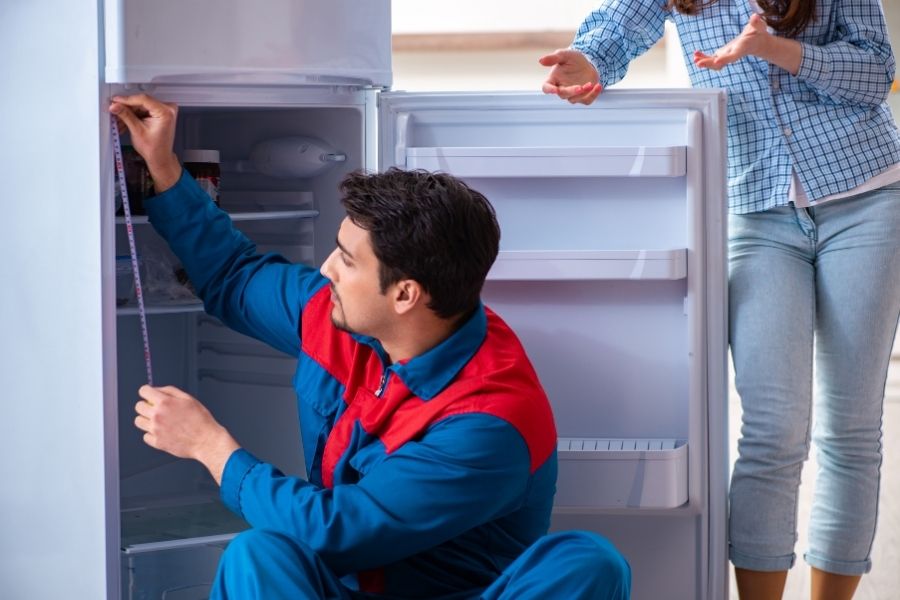 Same Day Professional Fridge Repair Services – Quality Work Guaranteed
Your Fridge has Tired! Get professional assistance From Sama Technical Services for Fridge repair Dubai. We have a combination of qualifications and experience teams means that a good technician will be able to undertake most minor repairs quickly and with minimal fuss.
A fridge is the most important household appliance that is rarely turned off. They work round the clock to preserve your foods but there is a time when they undergo repairs.
When your fridge breaks down or causes a malfunction in it, resolve its malfunction as soon as possible before turning the house into a harrowing situation.
We are the local professional fridge repair company in Dubai, that fixes the problem in your fridge and makes it functional again. Call us +0552597257.
Request a Quote
24/7 Repair Services, We're Here When You Need Us
Reasonable – Dependable – Loyal Fridge Repair Company Dubai
We rely on refrigerators to store food and keep food fresh. Refrigerator repair service delays can cause significant problems. Therefore, we offer same day repair service without adding extra service costs. Our Refrigerator repairing services in Dubai are provided to the residential area, commercial area, and office and homes.
Sama Technical Services Fridge repair Dubai provider offering this service has highly qualified staff, who provide professional services at an affordable price. The repairing services are offered on a large scale, and so you can contact them for refrigeration repairs in Dubai whenever you need it.
Our technician's team have the expertise to handle all kinds of refrigeration-related issues like faulty wiring, damaged door seals, clogged drains, leaky refrigerator, control problems, and many more. We also deal in major brands of the Refrigerator repair Dubai such as Samsung, LG, Ariston, Daewoo, Panasonic, Bosch, Whirlpool, etc.
When you choose our Fridge repair service in Dubai, we will assign a qualified expert to you. Our expert has the appropriate knowledge about the fridge and will be able to fix your fridge properly. They will save you lots of time and money. You can even trust them not to overcharge you because they are experts and trained.
We operate Fridge repair service throughout Dubai Contacting the right Sama Technical Services company in Dubai to repair your fridge freezer can help you get the best refrigeration services at an affordable rate. Or contact us from any corner of Dubai to get unmatched refrigerator service Dubai. Make your Appointment with us or Contact Us by WhatsApp.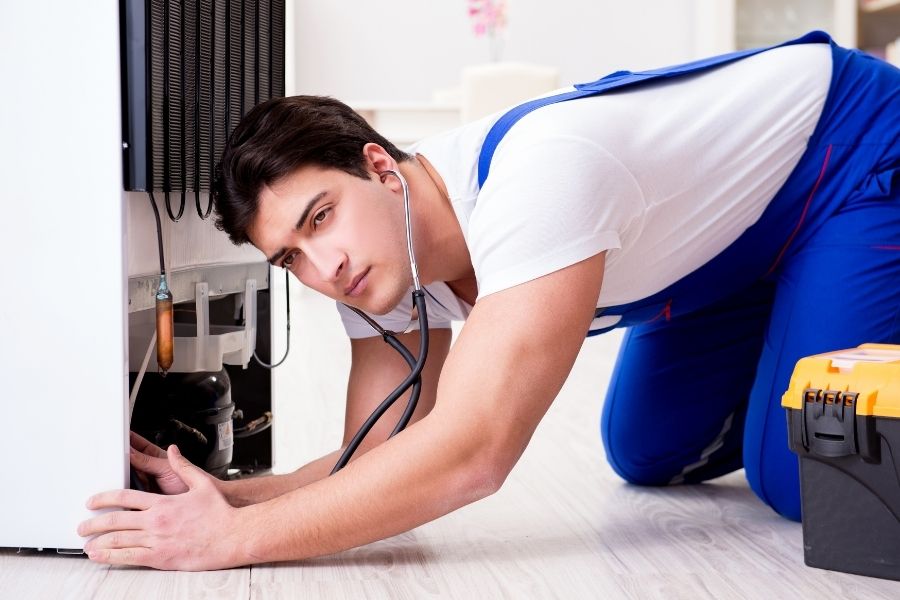 Expert Level Fridge Repair Services in Dubai
A fridge has many components that work together to make it run. If any of these components break down, the refrigerator will be damaged and affect the overall results.
To replace the original spare part of the same fridge brand, you can call (+0552597257) for fridge repair personnel. We fully guarantee the spare parts of the fridge that we replace.
Compressor
Condenser
Evaporator
Capillary tube
Thermostat
Expansion Valve
Your Fridge May Have One Of The Following Issues:
Your Fridge is not Cooling
Fridge is not Starting
Taking longer to cool
Your Fridge is vibrating much
Water Leakage
Drainage Issues
Fridge is getting oveheat
Ice Maker Not working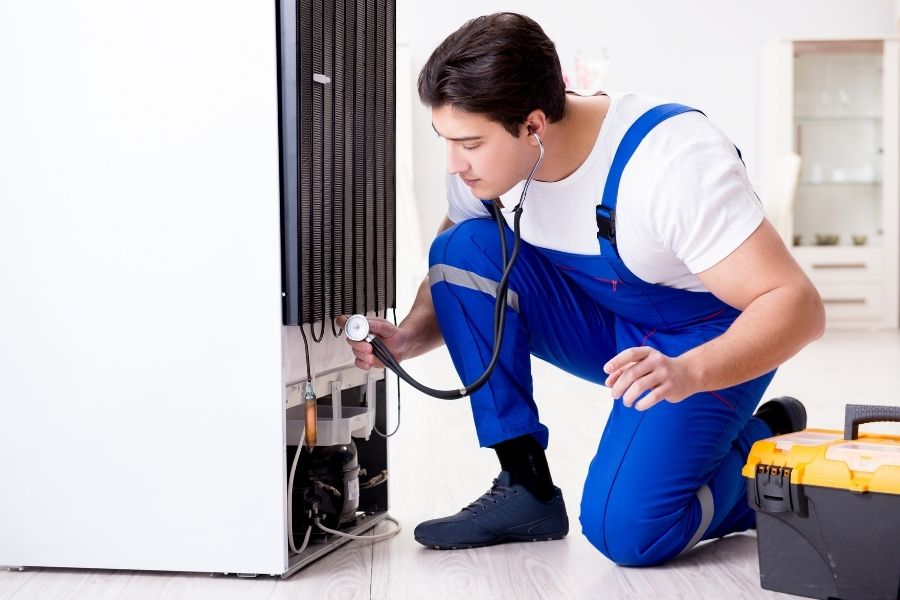 In an emergency? Need help now?
Do you need an emergency service with a local repairman in your area? We are the established local appliances repairing company Dubai and extend UAE that you will be getting comfortable service at much more attractive cost that you deserve.
Fridge Repair Dubai – Trusted – Affordable – Quick Arrival Time
At Sama Technical Services, gives ample time for maintenance and cleaning of your refrigerator and give ample time for a thorough inspection of your machine before offering replacement or repairs to it at the very best possible price. So you can ensure that you won't have any problems getting your refrigerator working once it's been repaired. You'll be able to keep foods fresh and safe, and you can enjoy the convenience of having your refrigerator work when you need it most.
Refrigerator Repair Services
Get the right results, affordable service cost-effective than to risk spending more in the long run
Fridge Repair Dubai
Get the unrivalled care of your fridge repairing than to risk of electrical fires or other hazards always with our professionals
Fridge Repair Technician Dubai
Get the quality repair, maintenance service in your area without cost you twice as much or more with the best service provider Sama Technical Service
Fridge Repair Near Me
Hire our reliable technician of your Fridge repairing and service to get the excellent service at the lower cost and get the gadget back up and running
MORE HOME APPLIANCES REPAIR SERVICES