Fridge And Refrigerator Repair Specialists In Dubai
Refrigerators are at the forefront of essential home appliances. As such, any malfunction or disruption in your fridge can significantly disturb your daily schedule, particularly in Dubai's hot and humid climate. In this locale, marked by extreme temperatures, you might encounter diverse technical problems with your refrigerator, necessitating Fridge Repair Dubai services.
If you require professional refrigerator repair in Dubai, you have come to the right place. Our competitive advantage is that we provide same-day fridge repair in your city. Our refrigerator repair services are accessible around-the-clock in Dubai and address all types of problems with refrigerators, from serious malfunctions to small hiccups. We are able to fix and replace any part or unit of your refrigerator, including duties like refrigerator compressor repair, handling gas leak issues, fixing refrigerator door light issues, and taking care of refrigerator power consumption issues. All of our services are offered at cost-effective rates.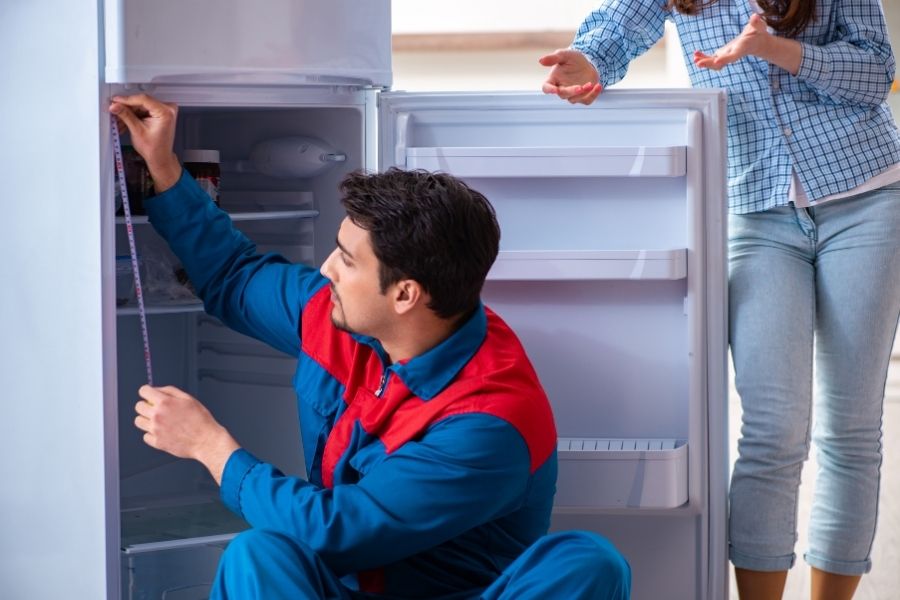 Problems in Fridge – Common Issues of a Fridge
With our extensive background in residential appliances, we come across a wide range of fridge or freezer defects and difficulties on a daily basis because of our experience and familiarity with residential appliances. If your refrigerator or freezer has a problem, chances are we've seen it before.
Here are some of the more typical refrigerator issues that many of our customers bring to us:
Repairing a leaking fridge seal
Replacement or repair of the refrigerator thermostat/fan motor
The refrigerator's compressor has stopped working
If the ice maker isn't filling up with water or generating ice, it's a sign that something is wrong
Changing the water filter in the refrigerator
The equipment consistently generates a loud, humming, clicking, or other form of noise
The refrigerator is always on and warm to the touch
The water dispenser is not functioning properly
Repairs to walk-in refrigerators
Keep our contact number handy in your mobile device and feel free to call us anytime and anywhere within Dubai. We're fully prepared to deliver swift and urgent refrigerator repair services in Dubai.
Why Sama Technical Services
You may be confident that Sama Technical Services will guarantee that you make the right choice when selecting an appliance repair service to meet your household's needs. Our services combine low price with affordability, as well as friendly, trustworthy service provided by qualified experts. With a warranty on all of our services, we stand by the caliber of our parts and craftsmanship.
Our spectrum of services encompasses Fridge repairing services, and we also extend our experience to other home appliance repairs. This covers all areas inside the city of Dubai and includes dryer repair in Dubai, dishwasher repair in Dubai, air conditioning repair in Dubai, ice maker repair in Dubai, and electric stove repair in Dubai.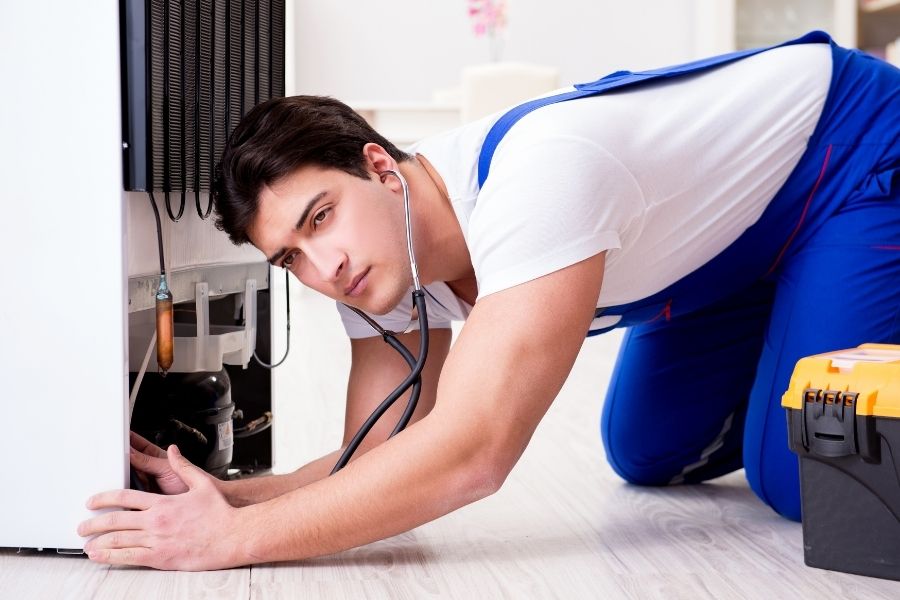 Fridge Major Parts
The refrigerator consists of several essential parts that work in harmony to maintain its cooling functionality:
Compressor:

The compressor plays a crucial role in the cooling process. It compresses the refrigerant vapor, increasing its pressure, and then propels it into the coils located on the outer part of the refrigerator.

Condenser Coils:

These coils are positioned on the outside of the fridge. When the hot gas from the compressor encounters the cooler air in the kitchen, it condenses into a liquid due to the drop in temperature.

Evaporator Coils:

These coils are located inside both the freezer and the fridge compartments. The refrigerant, now in liquid form, enters these coils at high pressure. As it evaporates, it absorbs heat from the air inside the fridge, thus cooling it down.

Lights:

The interior lights in the fridge allow for visibility and convenience when accessing its contents.
The Refrigeration Cycle:
The refrigerant undergoes a continuous cycle to facilitate cooling:
The compressor compresses the refrigerant vapor.
The condensed refrigerant flows through the condenser coils, dissipating heat and turning into a high-pressure liquid.
The liquid refrigerant then enters the evaporator coils within the freezer and fridge compartments, where it evaporates and absorbs heat from the air.
This heat absorption cools down the air inside the fridge.
Eventually, the refrigerant returns to a gas state and travels back to the compressor, restarting the cycle.
Types of Refrigerators:
There are various refrigerator designs to choose from:
Top-Freezer Refrigerator:

Freezer on top, fridge below.

Side-by-Side Refrigerator:

Freezer and fridge compartments are side by side.

Bottom Freezer Refrigerator:

Freezer is located at the bottom, fridge on top.

French Door Refrigerator:

Double doors on top, freezer at the bottom.

Counter-Depth Refrigerator:

Designed to align with counters for a streamlined look.

Mini Fridge:

Compact and portable refrigerator, ideal for small spaces.
These components and types define the intricate workings and variations of refrigerators, catering to diverse needs and preferences.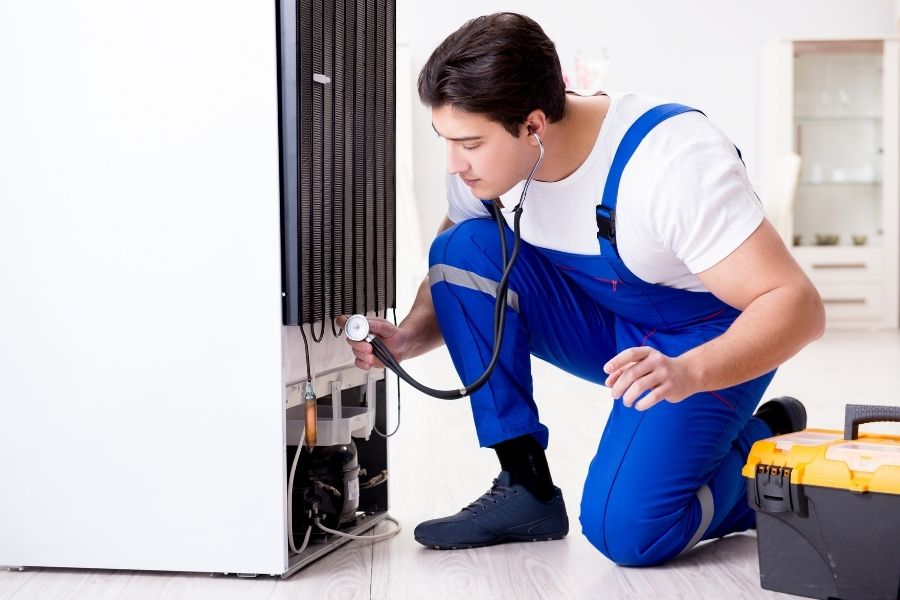 In an emergency? Need help now?
Do you need an emergency service with a local repairman in your area? We are the established local appliances repairing company Dubai and extend UAE that you will be getting comfortable service at much more attractive cost that you deserve.
Expert Fridge Repair Professionals in Dubai
If you're facing fridge issues in Dubai, fret not! Sama Technical Services's team of proficient fridge repair experts in Dubai is at your service. As a reputable provider of home appliance repair solutions, we recognize the pivotal role a well-functioning refrigerator plays in your daily routine. This understanding drives us to offer a comprehensive array of fridge repair services in Dubai, encompassing diagnosis, repair, and upkeep.
Benefits of Opting for Our Fridge Repair Experts in Dubai:
Expertise:
Our Dubai Fridge Repair team boasts in-depth expertise and extensive knowledge to swiftly and effectively diagnose and rectify all fridge-related problems. We exclusively utilize top-tier parts and equipment, ensuring optimal functionality for your fridge. Moreover, we excel at identifying and addressing underlying issues that might contribute to the problem.
Cost Efficiency:
Choosing Sama Technical Services for your Dubai fridge repair can lead to long-term savings. Our adept fridge repair experts exclusively employ high-quality components and equipment, ensuring meticulous repairs. Competitive pricing and free estimates are our offerings, guaranteeing you the utmost value for your investment.
Time Savings:
Undertaking fridge repairs on your own can prove to be time-consuming and frustrating, often necessitating multiple attempts. Opting for Sama Technical Services's professional fridge repair in Dubai can spare you such hassle, resolving the issue swiftly and efficiently.
Safety:
Given that fridges contain potentially hazardous chemicals and electrical elements, self-repair endeavors can pose risks. Our skilled fridge repair specialists ensure secure and precise repairs, prioritizing your safety and that of your family.
Craftsmanship:
At Sama Technical Services, we take pride in delivering superior home appliance repair work. We utilize only premium parts and equipment to ensure the optimal performance of your fridge. Our experts are adept at identifying and rectifying underlying concerns, ensuring enduring repairs.
Reach out today to schedule a fridge repair session and experience the advantages of collaborating with the reliable professionals at Sama Technical Services!
Steps to Take Before Contacting a Fridge Repair Service:
Bear in mind that high-quality refrigerators typically encounter minimal issues. They tend to offer a lengthy service life. However, if complications arise, remember to reach out to the competent fridge repair near you in Dubai. Sama Technical Services's adept technicians are the right choice to swiftly, efficiently, and cost-effectively address your Dubai fridge and freezer concerns.
Swift and Economical Refrigerator Repair in Dubai:
Our company boasts extensive experience and modern equipment, enabling prompt and efficient interventions across your locality. Our technical teams are equipped to tackle even the most challenging scenarios.
We promptly dispatch technicians to your residence, store, or any location requiring refrigerator repair in Dubai, UAE. Our experts work discreetly and expediently, leaving your space and fridge impeccably clean upon completion. This ensures a seamless return to your regular routine.
However, the landscape changes for commercial refrigeration establishments like restaurants or bars. Recognizing that fridge malfunctions can result in financial losses and customer dissatisfaction, our authorized fridge repair technicians offer dedicated care to your refrigerators, allowing you to operate with peace of mind.
MORE HOME APPLIANCES REPAIR SERVICES
WhatsApp us