Dryer Repair Abu Dhabi: The Ultimate Laundry Solution
Laundry appliances bothering you?
Need a professional home appliance technician to fix a dryer malfunction in Abu Dhabi as soon as possible?
Book
or
Call Us
+0504872548
a certified technician specializing in washer and dryer appliances today to fix your dryer problem at your place in Abu Dhabi. If you make an appointment before 4 pm, we assure you of your
dryer repair Abu Dhabi
on the same day.
Quality Dryer Repair Services in Abu Dhabi Since 2000
Sama Technical Services has been servicing dryer repair service throughout Abu Dhabi for years now. We specialize in home appliance repair service with a proven record of delivering superior dryer and washer repair. We repair and service all major brands of dryer and washer.
Our experienced technicians are readily available in Abu Dhabi to assist people with an adequate solution to any dryer problem and give the 100% satisfaction and cost effective result for Dryer repair Abu Dhabi.
Call Us +0504872548 and and scheduling an Appointment with Sama Technical Services is the best home appliance repair company in Abu Dhabi for Dryer repair in Abu Dhabi
.
Request a Quote
24/7 Repair Services, We're Here When You Need Us
Types of Dryer We Repair in Abu Dhabi
From the first day of our business, we have focused on upgrading our services to match the latest technology. Repairing modern laundry equipment requires extensive experience and knowledge that our technician has enough. We repair and service all three types of modern dryers of major brands available in Abu Dhabi.
Call Us
+0504872548
for any kinds of clothes dryers fail or needs serviced as soon as possible.
Vent Dryer
Gas Dryer
Condenser Dryer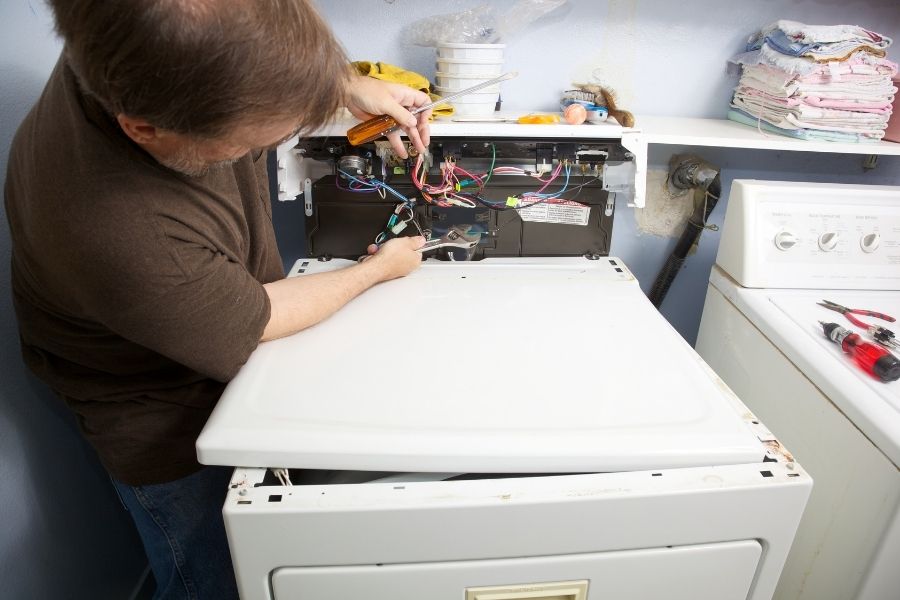 When to Contact Sama Technical Services For Dryer Repair in Abu Dhabi
Unable to turn on
Drum movement with excessive noise
Drum not moving
Dryer not producing heat
Dryer producing over heat
Taking more time
Washer leakage and drain problem
Dryer shuts quickly
Other complication
Replacement of Genuine Parts Guaranteed for Dryer repair Abu Dhabi
We do Replacement of Company Approved Accessories or Components in Non-functioning Dryer. Complications in the dryer can be linked to dryers' significant components.We replace authentic spare parts at the market price with a nominal service charges such as thermal fuse, thermostats, heating element, dryer motor, pumps, temperature, and pressure switches, etc.
We only use high-end spare parts that ensure your dryer lasts longer. Being a customer-centric company, Sama Technical Service is determined to satisfy the customer and value your investment in Dryer repair Abu Dhabi.
Save your money and another potential problem from Sama Technical Services engineers and set you back in your home. Simply Call Us +971504872548.
In an emergency? Need help now?
Do you need an emergency service with the local repairman in your area? We are the established local appliances repairing company in Abu Dhabi, and extend UAE that you will be getting comfortable service at much more attractive cost that you deserve.
Same Day Dryer Repair Abu Dhabi – Quality Work Guaranteed
At Sama Technical Services, Trained engineers can forecast offer Same day Dryer repair services in Abu Dhabi but depending upon the glitches, spare parts and many other factors. So, you need to communicate with the exact time and exact issues to save yourself from depleting in wait.
Dryer Repair Abu Dhabi
Ultimately save you a significant headache with Sama Technical Service right Dryer repair provider and work completed with satisfaction.
Dryer Machine Repair Abu Dhabi
Get furnish an approximate cost for the required service of dryer repair service and made the right choice with the technician's proficiency.
Dryer Repair Services Abu Dhabi
Go ahead for Dryer machine repair with our local repair professionalism company and made the small cost payment
Dryer Repair in Abu Dhabi
We use to be a repair technician for Dryer machine repair and deal with the affordable service who can afford the service and opportunity.
MORE HOME APPLIANCES REPAIR SERVICES