Get Top Quality Service of Same Day Dishwasher Repair Dubai
Dishwasher repair Dubai has become quite easy over the years due to the presence of highly trained and experienced technicians. If you have a faulty appliance in your home, including a dishwasher, all you need to do is bring it to the Sama Technical Services place, or all you have to do is Make an Appointment or Call Us 0504872548 at where the experts can solve the problem. You don't have to spend hours worrying about the condition of your appliance because our technicians are available to take care of all your technical requirements within a short time. So, If you are looking for quality home appliances repair company for Dishwasher repair Service in Dubai and Abu Dhabi, then you are at the right place.
Sama Technical Services is equipped with fully equipped modern kitchen facilities to cater to the convenience of its customers around the clock. In addition to that, we are equipped with qualified technicians who offer quality service at the most reasonable rates.
The professional technicians at Sama Technical Services will provide quality dishwasher repair at reasonable rates. They will take care of your requirements, and they will even fix it at a cheaper price than the market value. With the help of our technicians, you can easily repair your dishwasher and get it back in its perfect working condition.
Call 0504872548 our professional home appliances repair company Dubai for dishwasher repair Abu Dhabi and Dubai within 24 hours with a 100% satisfaction result for all your dishwasher repairs. Not just dishwasher repair service of a similar model or brand, but dishwasher repair of even major brands of all variations.
We have technicians belonging to every brand in the market, so they can easily fix problems related to every brand without compromising on the quality of the work.
Low water level, strange white smoke odor, slow draining of water from the pipes, slow running, air leaks, poor performance are the most common dishwasher problems. These problems can be avoided carried out by our dishwasher repair experts in Dubai.
Sama Technical Services is specializing in Dishwasher repair services in Dubai, Abu Dhabi. We have been operational for a long and offer an extensive range of services for your home, commercial premises, and other machines/appliances like dryer repair, washing machine repair, fridge repair and so on. We also offer parts and accessories for replacement, maintenance, and upgrades for different types of machines.
Get an Appointment or Call Us at 0504872548, our professional dishwasher technician Dubai to fix your dishwasher in Dubai and Abu Dhabi on the same day with a 100% satisfaction result.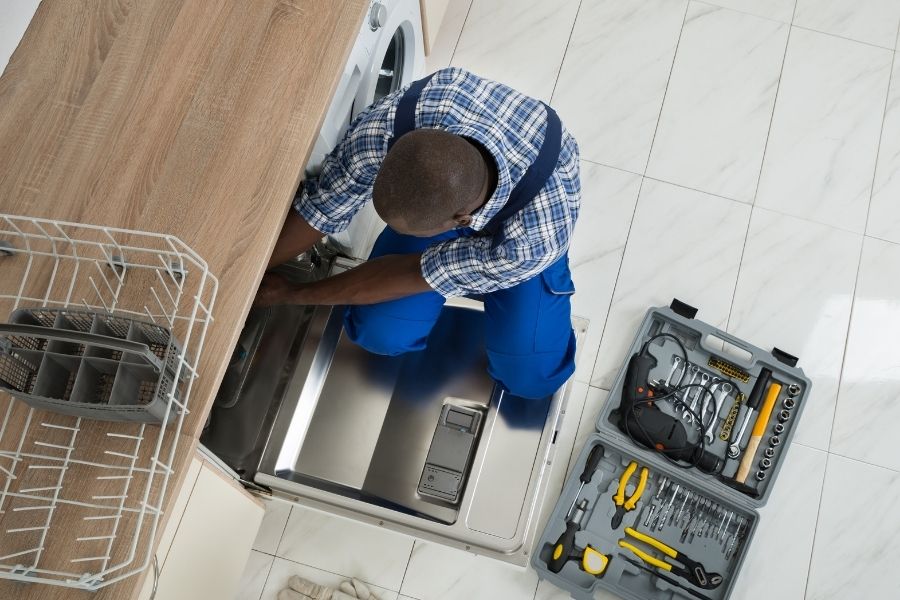 Get Repaired Every Brand of Dishwasher From Sama Technical Services at Lowest Charge
We not only repair dishwashers of the same model or dishwashers of the same brand, but also dishwashers of major brands of all variants. Our appliance repair service is set up in a way that motivates people to Dishwasher repair services rather than replace it with a new one.
Our dishwasher technicians in Dubai use the latest tools and technologies to repair damages. They ensure that your appliances are repaired in a timely manner because they know that people are usually not very patient. They know very well is that many people demand the services of dishwasher repair services in Dubai because they do not have an extra budget for a new appliance.
So we assure you that hiring our professional for a Dishwasher repair Dubai, Abu Dhabi service will be a budget-conscious step.
Get a quick Book Appointment on Dishwasher Repair Dubai or Call us at +0504872548
Our mission is to maximize the utilization efficiency of home appliances including dishwashers by providing quality repair and maintenance service.
Request a Quote
24/7 Repair Services, We're Here When You Need Us or Directly Call Us
Get Professional Services for Repairing Dishwasher Either Domestic or Commercial By Sama Technical Services
A device that uses energy to perform tasks can erode after some time or at any time. The dishwasher is the most in-demand kitchen appliance we use to clean dishware and cutlery automatically. Defects in the dishwasher can be painful if not repaired in time as it saves your huge time and energy to clean dishes. After a few minutes, the soiled dishes start to smell if they are not cleaned well, or a clogged water line can cause dishes to turn off in the middle of the meal or delay washing until the next morning, loss of power to the washer during the cycle, and more.
This is the time when you realize its importance, how much it helped you regularly without getting much attention from you. You are not the only one who needs dishwasher repair service in Dubai, Abu Dhabi at some points. Hire us for the appropriate dishwasher assistance in Dubai, Abu Dhabi who are certified Dishwasher repair Dubai professionals who are listed on the association's website. They have been carefully trained in all aspects of dishwasher repairing in Dubai and will be able to give you the assurance you need to feel completely comfortable with their work.
Our qualified technicians are fully aware of the techniques and safety measures to be followed when handling various appliances. Technicians belonging to Sama Technical Services have to undergo extensive training to ensure that they are well equipped to handle any dishwasher repair problems. They also are familiar with all the essential tools required for the maintenance of appliances.
So, You can be assured be that the appliance is repaired in a way that does not expose any further damages. Our appliance repairman takes extra care while handling your dishwasher to avoid any damages.
Same Day Dishwasher Repair Dubai Service With 100% Quality Satisfaction Guaranteed
Sama Technical has emerged as a customer-oriented and most reliable company in the field of appliance repair service in Dishwasher repair. We work to satisfy our customers and earn reputation which is the first and most important priority that we never compromise.
We will give you the best support and will carry out the repairs as fast as possible. Our technicians possess the best skills, which can fix your dishwasher problems within the shortest time possible. Select our Same Day dishwasher repair service that offers free home delivery in Dubai, Abu Dhabi.
Schedule Book an Appointment before 4 pm to avail same day service anywhere in Dubai. Our smart engineers available all days to serve you with perfection and commitment
Reason to Hire Us For Dishwasher Repair in Dubai
Competitive repair service charge
Same day guaranteed repair service
Offer service at your site
Provision of free pick and delivery
Repair multi brand Dishwasher
Replace genuine spare part
Cover 3 months service
Emergency dishwasher repair service available
Our technicians are insured
Customer Support day and night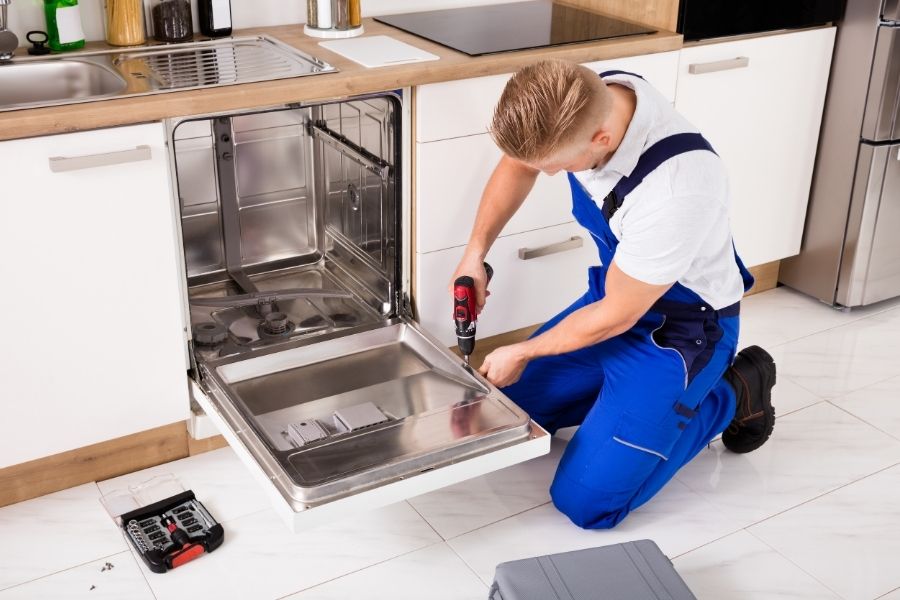 In an emergency? Need help now?
Do you need an emergency service with the local repairman in your area? We are the established local appliances repairing company Dubai, Abu Dhabi, and extend UAE that you will be getting comfortable service at much more attractive cost that you deserve.
Dishwasher Repair Service
We provide complete assistance to our clients. No wonder, if you are looking for ways to save your hard-earned money on repairing the dishwasher, then you should contact us and contact our skilled technicians for the job. We will get the job done at half the price of what others would charge for doing the dishwasher repairs. You must try it if you are serious about saving some money while maintaining your brand-name dishwasher. Our staff is friendly and provides excellent services. Our experienced engineers take care of your concerns and requirements, offering the finest of Dishwasher repair services in Dubai, Abu Dhabi. All their services are covered under one roof, with skilled and trained technicians. We provide quality of service that is not found elsewhere in the region. Whether you need a simple solution to an ongoing problem or require a full dishwasher replacement, they will get it done as per your requirement at competitive rates
Dishwasher Repair Dubai
You are lucky, and you are working with our Dishwasher repair service Dubai company that we don't charge an hourly rate
Dishwasher Repair Service Dubai
We handle clients on a much larger scale and makes practical and best results possible in your budget that fall into this category
Dishwasher Repair in Dubai
Our reputable Dishwasher repair service company Dubai provide quality service with using high-quality spare parts and extend the warranty or your appliance life
Dishwasher Repair Abu Dhabi
We are genuine & authentic dishwasher service company able to recover your appliance with the timings & deliver the results as conveyed
MORE HOME APPLIANCES REPAIR SERVICES